For Teachers
A CCSS Annotated Discussion and Activity Guide for
The Poppy Lady
Welcome, Teachers!
I want to thank all of you for sharing the The Poppy Lady: Moina Belle Michael and Her Tribute to Veterans with young readers. I can think of no better way to continue the tradition of the red poppy and help spread Moina's message.
A professional CCSS Annotated Discussion and Activity Guide for The Poppy Lady is now available. Please click the image below to download the PDF file.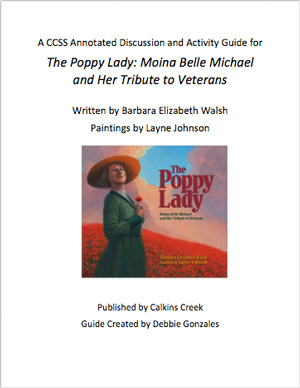 As a former teacher, I love sharing my writing process with children. In my interactive PowerPoint presentation, I talk about where the idea for my book came from and the long process it took to write a work on nonfiction. My presentation ends with a question and answer period.
For information about hosting a library, bookstore or school event, please see my brochure below or contact me.